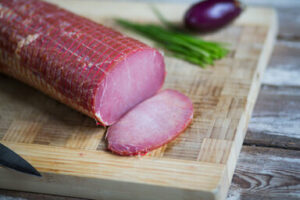 We at Greenflex often get the question why specific netting types exist and how to choose the right stability netting for your product. We offer 10 different kinds of stability netting, and each of these nets are designed and manufactured for a specific application within the meat process. Depending on the needs of your product and the expectations of your customer, it can be a challenge looking for the right net for your product. This is why we developed a user-friendly tool to help determine the right netting for your application. 
Based on some very simple questions about your product and expectations, our tool can guide you towards the right netting choice and it will enable our sales team to determine what Greenflex' product will be the right fit for your specific application.
We encourage you to take this quick survey and contact us if you have any further questions!
How to choose the right stability netting?
Interested in our stability netting?